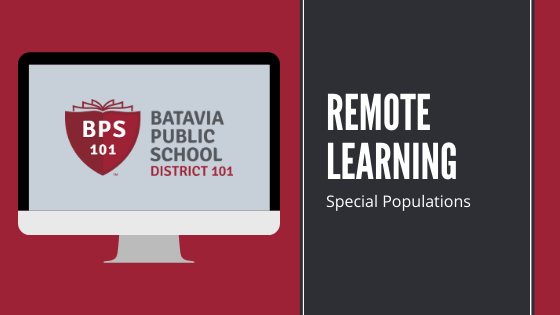 Remote Learning Special Populations
Special Education
Your child's special education team will continue to provide educational opportunities during Remote Learning.  We will work with families to ensure that students with disabilities also have equal access to the same opportunities as their general education peers. The IEP team will be working with individual families to determine what identified services can be provided through alternate methods while recognizing the unique needs of the child within their family unit. Specific questions related to the IEP implementation should be directed to your child's case manager.  For additional information, please read the letter from the Director of Student Services.
Section 504
Your child's classroom teachers will continue to provide appropriate accommodations or modifications required to allow your child access to the general education curriculum during Remote Learning. Specific questions related to your child's 504 Plan should be directed to the classroom teacher or 504 Coordinator/Case Manager.
English Learners
Any student receiving Bilingual Services in a self-contained classroom will continue to meet as a classroom and receive his/her instruction from that teacher. Students who receive English Language services will continue to be contacted and supported by the district's EL teachers. Guidelines for services are specific to the individual student's needs; and therefore, specific information related to these services will be communicated to individual families based on those identified needs. Specific questions related to the English Language/Bilingual services should be directed to the EL teacher or the assistant principal/principal.
Interventions
If your child was receiving an intervention prior to the transition to Remote Learning, your child's school team will be contacting your family to offer this opportunity to extend into Remote Learning school days. As many of these interventions require in person and small group instruction, staff will be creative in how to modify the instruction during Remote Learning. Teams will be modifying the time and materials, to align with ISBE Guidance on the amount of instructional time students should be engaged in learning per day.
If you have questions specific to your child, please contact your child's building principals (elementary) or catherine.murray@bps101.net  (RMS) or Laura.Anderson@bps101.net  (BHS) to address your questions.