Emergency Plan
Student safety is a top priority for BPS101. Our District has developed an Emergency Operations Plan (EOP) to identify and respond to incidents by outlining the responsibilities and duties of the District and its employees. District staff receives training on the plan which outlines an organized, systematic method to mitigate, prevent, prepare for, respond to, and recover from incidents.
This web page contains some safety information and resources for parents. If you have any questions, please feel free to contact your child's principal. We have also created an informational video to help you understand the individual emergency responses.
How We Prepare for Emergencies
Our schools have emergency supplies, including food and water, as well as first aid kits, rescue equipment, and other basic necessities. These supplies are inspected regularly and used during drills.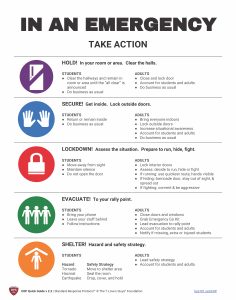 Our schools conduct a number of regular emergency drills. Every school conducts a number of drills each year, including fire, tornado, and law enforcement (lockdown) drills to practice emergency procedures.
The District's emergency operations plan is built upon the Standard Response Protocol (SRP) and includes five basic actions: Hold, Secure, Lockdown, Evacuate, and Shelter. 

► What's the difference between Secure and Lockdown?
At BPS101, we use the terms "Secure" and "Lockdown." While they may sound similar, the procedures for each are very different.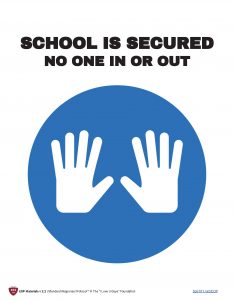 Secure: Secure mode (formerly known as "Lockout") secures the school perimeter (doors and windows) of a building to minimize exposure to a safety threat outside, such as criminal activity in the area. During Secure, no person (parent, student, staff member, guest, etc.) may enter or leave the building and classes will proceed as usual (to the extent possible). Secure ends when the police department confirms that the threat has passed. In a Secure situation, the school(s) involved will post the sign at right in the front door window to alert visitors of the situation.
Lockdown: A lockdown is a physical response to an imminent safety threat inside the building, such as an intruder or attacker. A lockdown response is situational and may include running away, hiding in a secure space, or even fighting the attacker. In a lockdown, staff members and students will evaluate their options to determine safest course of action.
In either a Lockdown or Secure situation, schools will act with the safety of students and staff in mind, and school officials will always in coordination with police and fire departments. So that we can keep our focus and effectively manage our emergency resources, we kindly ask that you do not attempt to contact us during a Secure or Lockdown situation. We will always communicate with parents as soon as it is practicable—our first priority is keeping students safe.
We have safe buildings, and each school also undergoes annual safety inspections by the Kane County Regional Office of Education and the Batavia Fire Department.  During the school day, there is only one entrance through which visitors may enter the school.
We have trained personnel at each school, including a nurse. In addition, we take courses in disaster preparation, response, and emergency management. If there is an emergency at school, school personnel have been trained and will react quickly to protect children.
Keep yourself informed of school procedures by attending parent meetings, reading the student handbook, school newsletters, and checking the school website periodically. Ask your child about their school's emergency drills, and make sure that your family is prepared for emergencies, too. In addition, be aware of the district-wide Safety Help Line and when to use it.
Communicating With the School During an Emergency
Schools communicate regularly with parents using Messenger, our electronic messaging system.  Parents will receive automated phone calls, text messages, and emails during school emergencies.  If you are not receiving messages from Messenger, check with your child's school to ensure that the school has the correct number for you.  It is imperative that we have correct contact information for you during an emergency; please make sure you update your school emergency card and contact information for each child each time the information changes.
Please do not attempt to call the school during an emergency, we will contact you with the information you need to know as quickly as we can.  Although there are people assigned to answer phones at school, these lines are likely to be overloaded during an emergency and are not your best source of information.  Keep your phone with you during emergencies so that you can receive updates.
► For school emergency information, check the following sources: the District website, BPS101.net, District Twitter feed @BPS101, and District Facebook feed /BPS101.
Depending on the emergency, you may not be able to get close to the school and may be asked to wait in a safe area. If it is hazardous for students to be released, everyone will be kept inside the school until notified by the authorities that it is safe outside. Schools will act with the safety of students in mind, and school officials will always follow the directives of the police department and the fire department.
Family Reunification Following an Emergency
When it is safe to pick up your child following an emergency, you will need to follow a special process to ensure everyone's safety.  You must bring I.D. and you must be listed on the child's emergency card in order to check a child out. When your identity is verified, your child will be brought to you.
Pandemic Preparedness
In the event of a communicable disease or pandemic outbreak, we are prepared to enact prevention and response measures.   The District will work with local and State health departments to identify the level of risk and follow health department guidance and protocols.  These may  include monitoring absenteeism, increase and target  building cleaning, develop and plan communication with staff and parents, and prepare for learning options if schools are advised by the health department to close.
Hotlines
A student or parent should report potential crimes, threats of violence or other serious violations of school policy immediately to a trusted adult in the school, or in the case of an emergency, by reporting it to 9-1-1. Two additional options are available for students who feel it is impossible to talk with a staff member about their concern.
BPS101 Safety Helpline (630) 937-5410
BPS101 provides a Safety Helpline to anonymously report any unsafe situation. The information will be routed to the appropriate school personnel.
Illinois School Violence Tipline 1-800-477-0024
While the best way to prevent violence is to inform a trusted adult, students can report threats of violence anonymously to the statewide, toll-free School Violence Tipline.  The tipline is answered by members of the Illinois State Police. Additional support is provided by the Springfield Mental Health Center.
If you think someone is planning a violent attack at your school, please call the School Violence Tipline at 1-800-477-0024.
Additional Community Resources
There are times when the support we are able to provide in a crisis or emergency needs to extend beyond our schools. There are many resources within our community for students and parents to access additional support on a variety of topics.