Board Highlights: July 17, 2018
The following is a brief recap of the Tues., July 17, 2018, BPS101 Regular Board Meeting. View the agenda and all supporting documents from this meeting and minutes from previous meetings. View BATV's recordings of previous meetings.
Report: Tentative Budget on Public Display
The tentative FY 2019 budget is now on public display. It is also available in hard copy at the Rosalie Jones Admin Center at 335 W. Wilson St., Batavia. A Public Budget Hearing is scheduled for Tues., August 21 at 7 p.m. at the Rosalie Jones Administration Center. Everyone in the the community is encouraged to attend and comment on the budget. The Board will vote on its adoption at the Tues., Sept. 18 Board Meeting. If you have questions about the budget, please contact Chief Financial Officer, Tony Inglese. Budgets from prior years are available from the Illinois State Board of Education's historical archive.
Report: Class of 2018
Batavia High School Principal Dr. JoAnne Smith presented Board Members with a Class of 2018 Exit Report detailing GPA by decile, achievement results, final transcript requests, and post-secondary experiences.
Highlights:
The top 50% of students had a GPA of 3.57 or higher.

The total number of 

dual-credit

 course enrollments (BHS has a reciprocal agreement with Waubonsee Community College) was 470—up from 442 in 2017.

A record 508 Advanced Placement (AP) exams were taken by 244 students. Exam results will be shared with the Board when scores are received by BHS.

88% of students reported they would be attending a college or university in the fall. Top 10 selections:
College or University
No. of Students
(Class of 2016)
No. of Students
(Class of 2017)
No. of Students
(Class of 2018)
Waubonsee Community College
98
103
95
University of Illinois-Champaign
14
19
29
Iowa State University
17
10
26
Grand Valley State University
1
1
15
Illinois State University
24
11
14
College of DuPage
4
10
11
Ball State University
7
2
10
Augustana College
4
8
8
Purdue University
6
4
7
Western Michigan University
4
0
7
Report: Board Data Walk
In addition to the Class of 2018 Report, Chief Academic Officer Dr. Brad Newkirk held a "Data Walk" during the Board Meeting to share non-academic data in four key areas: Growing, Caring, Performing, and Connecting & Engaging.
BPS101 holds these four areas in as high of importance as academic achievement. They are the foundation of a commitment statement to students and their learning in the BPS101 Strategic Plan: "Developing the whole child by providing a variety of learning experiences that extend beyond the classroom."
During this presentation, Board Members were invited to review data on story boards designed to explore the whole child, including survey results from students and staff as well as alternative forms of tracking student involvement in activities.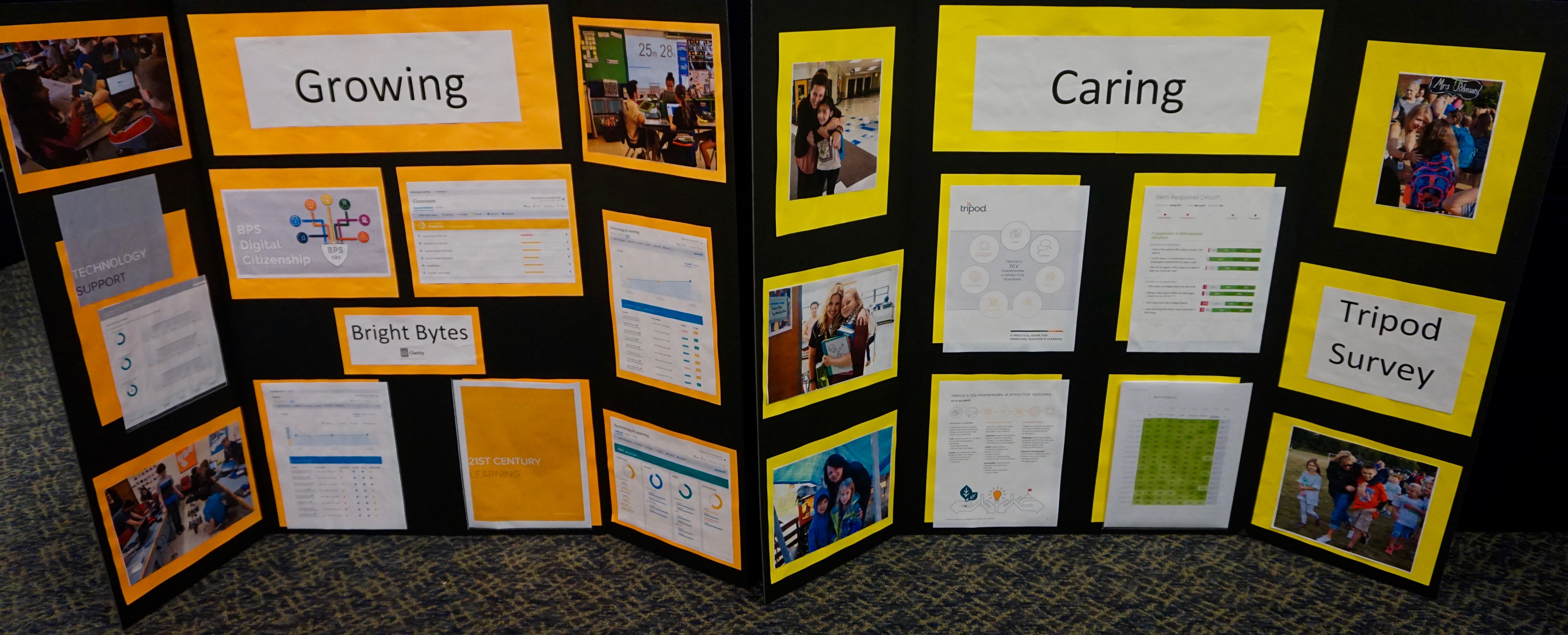 Following the Data Walk, Dr. Newkirk posed the following three questions to Board Members. Board feedback will assist with overall planning and reporting in the 2018-19 school year:
What data do you value?

How might this data assist you with your strategic work?

What data would be helpful to our community?
Upcoming Meetings
Regular Board Meeting – Public Budget Hearing
Tues., Aug. 21, 7 p.m.
Board Meeting – Building Tours
Wed., Aug. 29, 8:30 a.m. (tour will start at Rosalie Jones Administration Center)
Regular Board Meeting
Tues., Sept. 18, 7 p.m.
All meetings are open to the community and are located at the Rosalie Jones Administration Center, 335 W. Wilson St., Batavia.