BFEE Awards Nine Grants to BPS101 Teachers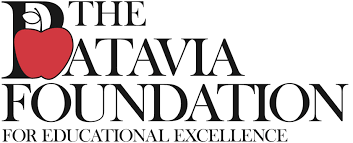 This fall, the Batavia Foundation for Educational Excellence funded nine Mini Grant proposals (each grant is $700 or less) from BPS101 educators. The total funded was $5,110. Congratulations to the following grant recipients:
Julia Parkhurst, Louise White School
Grant: Alternative Seating at LWS
Additional and replacement ball chairs to help students focus on learning, while allowing for movement.
Nicole Pappanduros, Grace McWayne School
Grant: Creating Artwork in the 3rd Dimension
Tools to bring more 3-dimensional projects to the art curriculum, year after year.
Aimee Miller, Batavia High School
Grant: Tracking Trends
Purchase of the reference series Information Plus to assist students in finding, evaluating, and applying information to solve problems.
Becka Butler, J.B. Nelson School
Grant: Story Grammar Marker for Writing Success
A classroom tool that connects language to literacy, fosters modeling and guided practice, and helps students internalize, talk about, and write abstract narrative.
Geralyn Wyatt, Grace McWayne School
Grant: Growing a Reading Garden: The Creation of a Reading Lounge
Conversion of a former GMS Computer Lab into a "Reading Garden," which offers multiple students a quiet, comfortable place to read.
Tamra Ashby and Kellie Stern, Alice Gustafson School
Grant: Immersive Learning at AGS Through BreakoutEDU Kits
Encourage student cooperation, problem solving, and critical thinking through the highly engaging learning game, BreakoutEDU.
Cynthia Mieland and Catherine Ciway, J.B. Nelson School
Grant: Mathseeds—Growing Kindergarten Mathematicians
Online math program for students, ages 3-8, with automated online scoring and reports that offering instant feedback on individual student progress and achievements.
Kirsten Hart, J.B. Nelson School
Grant: Wiggle While We Work
Purchase of four Hokki stools that allow students to move in place while listening to instruction, working in small groups, or independently focusing on instructional tasks.
Angela Carlson and Brianna Heisler, Rotolo Middle School
Grant: Co-Teaching M&M's – Math & Movement
Purchase of a wide range of alternative seating for RMS math students