The District Weekly for September 15, 2021
September 15, 2021 (Archivo de mensajes en español)
Hello BPS101 Families-
We are coming to you today with some stories from around the District.
Homecoming Parade
Come join us for the Homecoming Parade on Wednesday, September 22 at 5:00 PM! There's a new route this year! The Parade will start on Batavia High School's north side (Wilson Street Entrance) and wrap around the East to Lincoln Street, with the return to BHS along Main Street. This route helps to alleviate road closures throughout downtown Batavia.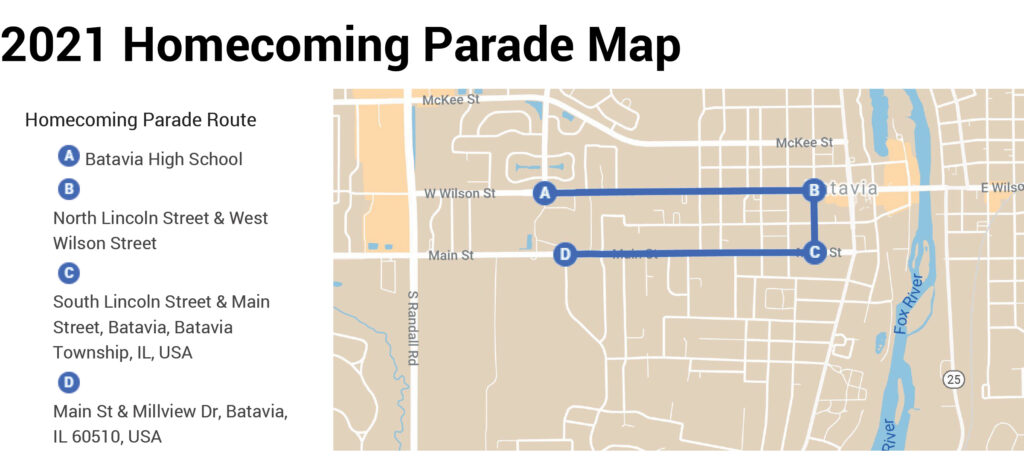 Hall of Honor Celebration
During Homecoming Week, please join us as we honor the 2020 and 2021 inductees into the BPS101 Hall of Honor. The celebration will be held on Thursday, September 23rd at the Batavia Fine Arts Centre. For information on the inductees and how to purchase tickets, please visit https://www.bps101.net/hall-of-honor/.
JB Nelson Students Display Art at GreenFields of Geneva
Ms. Bach and Ms. Welter from JBN have partnered with GreenFields of Geneva, a retirement community, to bring art from the younger generation to the older generation. Check out the story HERE.
Grace McWayne Miniature Art Gallery
A free, 24-hour miniature gallery, the first of its kind in Batavia, was built at Grace McWayne School on August 16, 2021.
Located at the top of the hill next to the blue stair rail at the school, the Free Little Art Gallery in Batavia enables the public to view the artwork of community artists, take home art pieces that they like, and add artwork that they themselves create. The collection changes as new pieces are added and existing pieces find new homes. The only permanent fixtures are the gallery's furniture, easels, and patrons. More…
We hope you have a chance to enjoy one or more of these community projects.
Be well,
-BPS101