Stepping Up Their Game
Teachers at BPS101 are enlisting the help of instructional coaches and technologists to improve student learning.
Would you ever question a professional baseball player needing a coach or a seasoned violinist working with a private music instructor? Probably not. That's pretty common. Think about this, though. Would you ever question a teacher enlisting the help of a coach to help him or her teach and develop students?
Teachers are position players, playing on a big team that's impactful to kids' lives and careers. A math teacher is similar to a first baseman; a science teacher is like a catcher; the English teacher is a great pitcher—you get the idea. Each teacher is important to the school team and greatly influences a child's development. So, this begs the question, "When's the last time you saw a coach-less team?"
You may have heard the terms," instructional coach" and "instructional technologist" at your child's school or in BPS101 stories. These individuals play important roles within each of our schools. If you're asking "like what?" keep reading.
First some brief definitions: An instructional coach is someone whose chief professional responsibility is to bring evidence-based practices into classrooms by working with teachers and other school leaders.¹  An instructional technologist supports teachers with effective ways to integrate technology into student learning.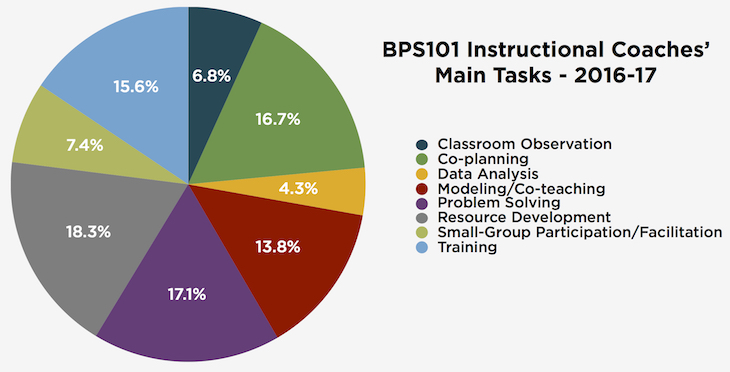 "We [instructional coaches and technologists] both have the same objective, and that is to improve student learning, but we have a different tool box, so to speak, in terms of how we can support teachers to get their kids to where they want them to go," explained Laura Foote, instructional coach at Rotolo Middle School. "An instructional technologist helps teachers use technology to meet student learning objectives. Instructional coaches, like me, help teachers put research-based classroom practices and routines into place."
Instructional coaching is a growing field. According to Adam Roubitchek, VP of communications for the
Illinois Council of Instructional Coaching
(ICIC) and an instructional coach/science teacher at Maine West High School, "The ICIC started in 2015 as a group of 15 coaches and administrators who were looking to improve the effectiveness of coaching and to share ideas and experiences. In 2017, we have over 500 members from all over the state."
The ICIC now hosts an annual conference, online book discussions, and a mentorship program. Next fall, author
Diane Sweeney
will be the group's conference keynote speaker.
According to Mrs. Foote, instructional coaching has been around for years and is available to teachers in hundreds of school districts across the country.
"When I was doing my graduate school work in 2005, there were districts in this area that had instructional coaching for several years already," she explained. "So, it's not new per se, but we've seen exponential growth in the last five years or so."
What do teachers think?
At a recent Professional Learning Community (PLC) meeting at Rotolo Middle School and meetings at H.C. Storm Elementary School and Batavia High School, teachers shared their thoughts on coaches. What they seem to appreciate most is the nonjudgmental, hands-on, personalized help they are receiving from someone they recognize as a peer.
"This is a quantum leap in terms of impacting what does take place in classrooms," said RMS language arts teacher, David Holm, who's been teaching at RMS for 46 years. "That's huge. This is a powerful asset. You have a mirror that's plainly reflecting back to you on what you're doing, but this mirror also has lots of ideas."

"I think the role of coaching is similar to why you would go to a personal trainer," said Jennifer Duffy, RMS special education teacher. "You know when you hit a plateau and you want to grow, but you need someone knowledgeable who can help you along the way. An instructional coach, like Laura [Foote], meets the teacher where they are at. I feel like I can take a lot of risks with her because she's not judgmental."

"Julie [Alholm] comes in with a wide variety of experiences and background knowledge and materials that we might not know about. She helps support what students will be learning already but makes it more approachable," said Kim Cocallas, second-grade teacher at H.C. Storm Elementary School. "The kids love when Julie comes in to work in our classroom. She

 has a way of bringing a spark to what we're learning."

"Sometimes things pop up, and kids become deeply interested in a topic," said Micheline Ivan, second-grade teacher at H.C. Storm Elementary School. "It's so valuable to have Julie [Alholm] as a resource to pull additional resources for those kids who become really involved. Especially the science topics. We've got kids who are going wild with some of the ideas. Julie's been a terrific resource for that."

"

We're coworkers, just here to help. We all have the exact same goal," said Amber Jirsa, who splits her time as an English teacher and instructional coach at Batavia High School. "We really want to be there for these students and do what we can for them. This is just another tool to help everyone get there."

According to Daven Carlson, RMS language arts teacher, "It's opened up our classrooms and at the same time brought us out of our own classrooms and into a more collaborative discussion. Years ago, we tended to be more isolated, almost guarded, I think. It's a paradigm shift. And, I believe, we've made that shift. It's a new way of thinking—maybe a little intimidating—but it is true collaboration."

"Coaching is the ultimate form of collaboration," echoed Jill Schulz, RMS language arts teacher. "I think some teachers misunderstand coaching. They think that in some way they are going to be judged, and that the coach's job is to come in and fix the problem. That's not the correct mindset for coaching. Coaching is to work together collaboratively as equal professionals in order to improve instructional practice and thereby improve student learning. Our coach will question why I am doing what I'm doing in a caring, supportive kind of way. Just because I've been doing something for 25 years does not necessarily mean it works best for kids today. She's taking best practices and research-based strategies that have been proven to work and helping me apply them to the classroom. It's awesome."
What's happening in the field?
To best understand how coaching works, here are just a few of the hundreds of recent examples from BPS101 schools:
Before spring break, second-grade classes at H.C. Storm Elementary School were working on a "property of materials" science unit. Within this unit is a design process. To dive deeper into that process, second-grade teachers enlisted the help of HCS Instructional Coach Julie Alholm.
Mrs. Alholm and the teachers worked together using an activity from "Mystery Science" to create a scenario in each classroom where students were stranded on a deserted island and lunch materials washed ashore. Students were tasked with building a hat from these lunch materials to protect themselves.
"Some of my students put a paper bag down the back of their neck to protect from the sun and used aluminum foil on top of their hats to reflect the sun up," explained Micheline Ivan, HCS teacher.  "Another one of my students glued a paper bag to the top of her hat. When I questioned it, she said, 'Well, it's for when the coconuts fall. I can catch them in my hat.'"
Smart.
"Students were 'doing' all of the basic steps of the design process—brainstorming, problem-solving, researching, creating, failing, recreating, testing, and more recreating before explaining their end product," said Mrs. Alholm. "That process transfers to so many other things beyond that moment."
Mrs. Alholm and HCS second-grade teachers also reached out to BHS Art Teacher Dawn Zalkus to invite Batavia High School Art Honor Society students into their classrooms to talk about the design process and to help second graders during hat construction.
"It was awesome because it allowed our students to see at a different level for accessory building and Rock the Runway," said HCS second-grade teacher Julie Johnson, referring to the wearable art fashion show at Batavia High School. "That transfer was excellent."
In Kim Cocallas' second-grade class at H.C. Storm Elementary School, one student visited the Fox River and brought in clam shells. He asked Mrs. Cocallas, "How do shells get into rivers?" That sparked a help request for Mrs. Alholm, who did some research to turn the interesting science question into a classroom project.
"We set up a Padlet to allow students to ask their own questions about this topic, research the shared questions, and then shared out their findings," explained Mrs. Alholm. "We also created a poster with findings, which now hangs in the hallway. I would not have been able to dive that deep when I was a classroom teacher."
At Batavia High School, Mrs. Jirsa and her fellow instructional coaches recently started a "Strategy of the Month" where they focus on a classroom strategy, like "Question Formulation Technique," and set up professional development workshops for teachers during first through fourth block to showcase how to use it.
High School instructional coaches also started a voluntary "Observe Me" program for teachers. BHS teachers are invited to post an "Observe Me" sign outside their classroom door, which is a green light for any BHS teacher to drop in and observe during instruction time and give feedback via an "Observe Me" form. 
"We ended up with 55 teachers who wanted to be observed," said Mrs. Jirsa. "To have that many teachers say, 'Sure, come in my room whenever you want and give me feedback,' speaks volumes about the environment we've created here."
Also at Batavia High School, Mrs. Jirsa recently helped a teacher who had an idea for an e-book to allow students to become an expert on a topic.
"She contacted me for help with the rubric and classroom assignment," said Mrs. Jirsa. "She also contacted Aimee Miller [BHS LRC director] for help with the research piece and reached out to Kristen Stern [instructional technologist] for the technological aspect of her project. It is so cool when we come together on one project. And the kids get to see that. They see us collaborating. Back in my day, you saw your teacher; they were alone in their classroom. That was it. But now, because of the rapport that we've created here, no one is alone. We want to be better at what we're doing, together."
Bird's-eye view
With their work in multiple classrooms each week, coaches are uniquely positioned to see the big picture—the way in which teachers are working, the impact they are having, and the needs of students, teachers, and administrators. With this perspective, BPS101 coaches help teams of teachers in their PLCs see big pictures and work toward systemic change. They also bring out the best of what each teacher is doing in her or her classroom and help implement those strategies in other classrooms.
"It's no longer Mr. Holm's classroom, Mr. Carlson's classroom, Mrs. Schulz's classroom, Mrs. Fox's classroom, and Mrs. Duffy's classroom," explained Mrs. Schulz about the team of teachers in her English language arts PLC. "Now, we are all working together to teach the students in the eighth-grade level, and we're using data and proven strategies to drive that decision. We're also taking the best of what Mr. Holm, Mrs. Fox, Mr. Carlson, Mrs. Schulz, and Mrs. Duffy have to offer, and we're making a new 'us.' It's no longer different classrooms. I think this year, we have a better, stronger feeling of 'us' than we've had before."
One of things that coaches have been able to coordinate are inter-building visits for teachers, which has been well-received by BPS101 teaching staff. Recently, RMS science teachers went to BHS to see a co-taught science class and JBN teachers visited RMS to see guided reading groups in action.
"Using those connections has gotten our teachers out of their buildings to go and see what teachers in other buildings are doing. That's a big deal. We don't always get outside of our own spaces," said Mrs. Foote.
Who's getting coached?
At BPS101, coaching is an option available to all instructors but is not mandatory. Teachers reach out to coaches to set up appointments—no different than setting up a dental check-up. And, the number of BPS101 teachers utilizing this service is growing.
From August 2016 to February 2017, instructional coaches throughout BPS101 were requested a total of 1,230 times by teachers.  In that same time period, instructional technologists were requested approximately 1,200 times by teachers.
In the first semester of this school year (August 2016 to December 2016) at RMS, 31 different RMS teachers worked with Instructional Coach Laura Foote in some capacity, which is about one third of RMS staff. That may not sound like a lot, but it is about the equivalent of an entire elementary school teaching staff.
"Every semester, I get new people," said Mrs. Foote. "It's continuing to grow. I'm getting lots of repeat business, but I'm also getting new people starting to explore the option."
BPS101 teachers are asked to rate their experience regularly with a coach based on two areas of measurement: "degree coaching experience improved practice" and "degree coaching experience improved student achievement." Over the last three years, these two areas of measurement have continually increased.

So, where do we go from here?
The role of teaching is shifting. "Teachers are becoming more like facilitators," said Mrs. Jirsa. "Much more learning is on the students and having them figure out the solutions to their problems. The focus is student-centered."
This student-centered approach to learning makes coaching more important than ever before. The playing field is quickly changing with the growth of technology at BPS101 and students becoming more active participants in their own learning, and at their own pace. To that end, coaches are continually working with teachers to focus on students' dynamic needs.
"I think coaching is an essential resource for teachers," said Mrs. Foote. "I don't see it going it away. I see this as growing. I see it as an opportunity. This is important work."
For additional information about the role of coaches in student learning, check out these resources:
____________________